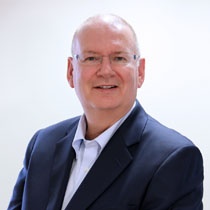 Quanticate, a leading global data-focused Clinical Research Organization (CRO), today announced that it has named Alan Morgan as the company's Chief Operating Officer. Reporting to Quanticate's Chairman and Chief Executive Officer David Underwood, Morgan will work across Quanticate's global office network (UK, US, India, South Africa, and Poland) to build and expand upon the company's reputation for outstanding customer service and expertise across clinical data services.
Drawing from Morgan's extensive leadership experience within large full-service global CROs, Quanticate will leverage his operational expertise and extensive knowledge of the clinical CRO space, to support customers across the pharmaceutical, biotechnology and medical device sectors. In his previous roles in large CROs Alan has been responsible for global teams of over 6000+ employees over 72 countries. In previous roles Alan has globalized the core project management and clinical operations team into a single group, restructured client facing project management to better service customer needs, drove project review process of over 400 significant projects, reshaped leadership team to align to changing industry dynamics, and introduced 6 lean sigma work streams to save in excess of $40 million of annual savings.
"Quanticate has experienced strong growth in recent years and Alan's oversight will enable us to continue to grow and provide the high quality service that Quanticate has built its name on over the years" said Underwood. "Alan will be a real asset to both Quanticate and our customers as he will help to continue to optimize our processes whilst providing strategic direction for the future."
"As the Clinical Data Experts, Alan's leadership over our operational teams will ensure the highest quality is delivered at all times to our customers and our leading position in the market place as a niche Data focused CRO is continually strengthened."
"Quanticate has a unique mix of data-focused services and a pedigree of outstanding quality. I am delighted to be joining the business at a point of exciting growth" said Morgan. "I look forward to building Quanticate's position in the market as a niche data focused CRO and contributing to and building upon the growth that Quanticate is already experiencing as one of the World's largest Data focused CROs."
Prior to Quanticate, Morgan served in global leadership positions at various CRO's including ICON, Covance, MDS and RPS.
View the full press release