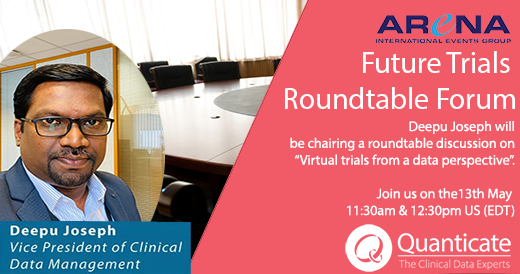 Deepu Joseph, VP of Clinical Data Management, will be hosting a roundtable discussion at the "Future Trials Roundtable Forum: Decentralized, Direct to Patient & Virtual Clinical Trials" on 13th May 2021 at 11:30 am & 12:30 pm EDT on "Virtual trials from a data perspective"
Talking points will include:
Understanding the data flow requirements of long term development pipelines, real-time data benefits, and overall virtual trial management
Technology and tools interacting with patients which collect relevant clinical data
Identifying the right technology for right data to be collected, planning integration & mapping with clinical Databases/Electronica Data Capture
If you are looking to increase your knowledge around popular concepts in the future of clinical trials then register for free for the roundtable single day event and join our discussion.
We are looking forward to your attendance and participation at this single day event.
About Quanticate:
Quanticate is one of the world's largest global data-focused clinical research organizations (CROs) with a primary focus on data capture, statistical analysis, and clinical trial reporting. As an expert in clinical data, Quanticate can rapidly provide high-quality teams that offer flexible solutions for clinical data management, biostatistics, statistical programming, pharmacokinetic/pharmacodynamic (PK/PD) analysis, medical writing, and statistical consultancy.
Quanticate meets the needs of drug‑ and device‑development companies by offering customer‑focused resource solutions from fixed‑cost or functional‑service‑provider (FSP) models through to consultancy. Quanticate has become the trusted supplier of choice for many companies from niche biotechnology and device companies to top tier pharmaceutical giants.