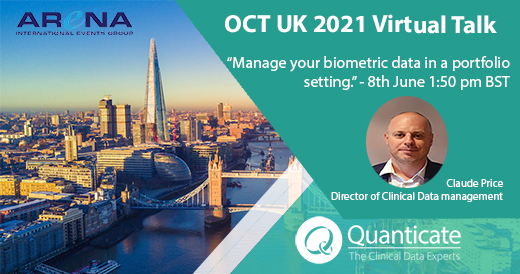 Claude Price, Director of Clinical Data Management, will be speaking at the Outsourcing in Clinical Trials UK & Ireland 2021 Virtual Conference on 8th June at 1:50pm.

Claude's speaker session is titled: 'Manage your biometric data in a portfolio setting' and covers:
Building your biometric portfolio structure
Merging of stakeholders
Management of technology partners
Registering to the conference will allow you to view our speaker session, as well as attend many other talks throughout the two day conference.
We are looking forward to your attendance and participation at the conference.
About Quanticate:
Quanticate is one of the world's largest global data-focused clinical research organizations (CROs) with a primary focus on data capture, statistical analysis, and clinical trial reporting. As an expert in clinical data, Quanticate can rapidly provide high-quality teams that offer flexible solutions for clinical data management, biostatistics, statistical programming, pharmacokinetic/pharmacodynamic (PK/PD) analysis, medical writing, and statistical consultancy.
Quanticate meets the needs of drug‑ and device‑development companies by offering customer‑focused resource solutions from fixed‑cost or functional‑service‑provider (FSP) models through to consultancy. Quanticate has become the trusted supplier of choice for many companies from niche biotechnology and device companies to top tier pharmaceutical giants.