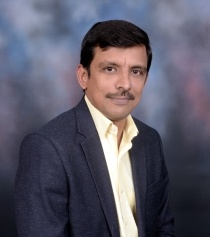 LONDON (UK) - Quanticate, a leading global data-focused clinical research organization (CRO), today announced that it has named Praveen Dass as the company's Country Head for Indian Operations and VP of Clinical Data Management. Praveen will lead Quanticate's Operations in India to help build and expand the company's operational center of excellence in Bangalore, India that supports outstanding customer service for Quanticate's global clientele.
Praveen Dass has extensive leadership experience across large full-service global CRO's and large multi-national Business Process Outsourcing service providers. In his previous roles, Praveen has been responsible for service delivery teams of over 600+ employees across multiple locations. Praveen has been instrumental in building delivery teams and ramping up operations across varied functional domains such as Clinical Data Management, Pharmacovigilance, and Statistical Programming.
"As a fast growing, leading data-focused CRO, it is important to have strong leadership across our key sites. There is a focus over the next 5 years for us to strengthen our position in the market and continue to grow our footprint, including in India. We also see our Clinical Data Management services continuing to expand" explains Alan Morgan, Chief Operating Officer at Quanticate. "Having Praveen on board will help us to achieve both growth in our global data management function and expansion in India whilst maintaining the high level of quality that our clients expect to see. We see Praveen as being instrumental in helping us achieve our future growth plans and meet the needs of our customers" continued Morgan.
"Quanticate has a great reputation for high quality data services and a passionate senior leadership team focused on providing value for customers. The company is poised for growth, and I am excited to be joining the business at this point in their journey" said Dass. "I look forward to helping strengthen our global DM services and grow our Center of Excellence in India"
Prior to Quanticate, Dass served in leadership positions at various CRO's including ICON, Accenture and Tata Consultancy Services.