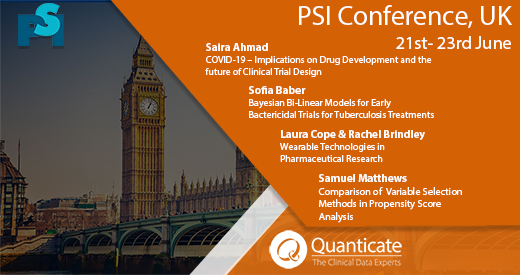 Quanticate is exhibiting at this years PSI Online Conference, 21st - 23rd June 2021 and this years sponsor of the poster session.
To register for the conference, sign up here.

Quanticate's statisticians will be presenting four posters in this years poster session;
Saira Ahmad- COVID-19- Implications on Drug Development and the future of Clinical Trial Design
Sofia Baber- Bayesian Bi-Linear Models for Early

Bactericidal Trials for Tuberculosis Treatments

Laura Cope & Rachel Brindley- Wearable Technologies in Pharmaceutical Research
Samuel Matthews- Comparison of Variable Selection Methods in Propensity Score Analysis
Registering to the conference will allow you to view our poster session, as well as attend many other sessions throughout the three day conference.
Visit our virtual booth to learn more about how Quanticate can help you with your clinical trial reporting or any open vacancies to join our team.
We are looking forward to your attendance and participation at the conference.
About Quanticate:
Quanticate is one of the world's largest global data-focused clinical research organizations (CROs) with a primary focus on data capture, statistical analysis, and clinical trial reporting. As an expert in clinical data, Quanticate can rapidly provide high-quality teams that offer flexible solutions for clinical data management, biostatistics, statistical programming, pharmacokinetic/pharmacodynamic (PK/PD) analysis, medical writing, and statistical consultancy.
Quanticate meets the needs of drug‑ and device‑development companies by offering customer‑focused resource solutions from fixed‑cost or functional‑service‑provider (FSP) models through to consultancy. Quanticate has become the trusted supplier of choice for many companies from niche biotechnology and device companies to top tier pharmaceutical giants.