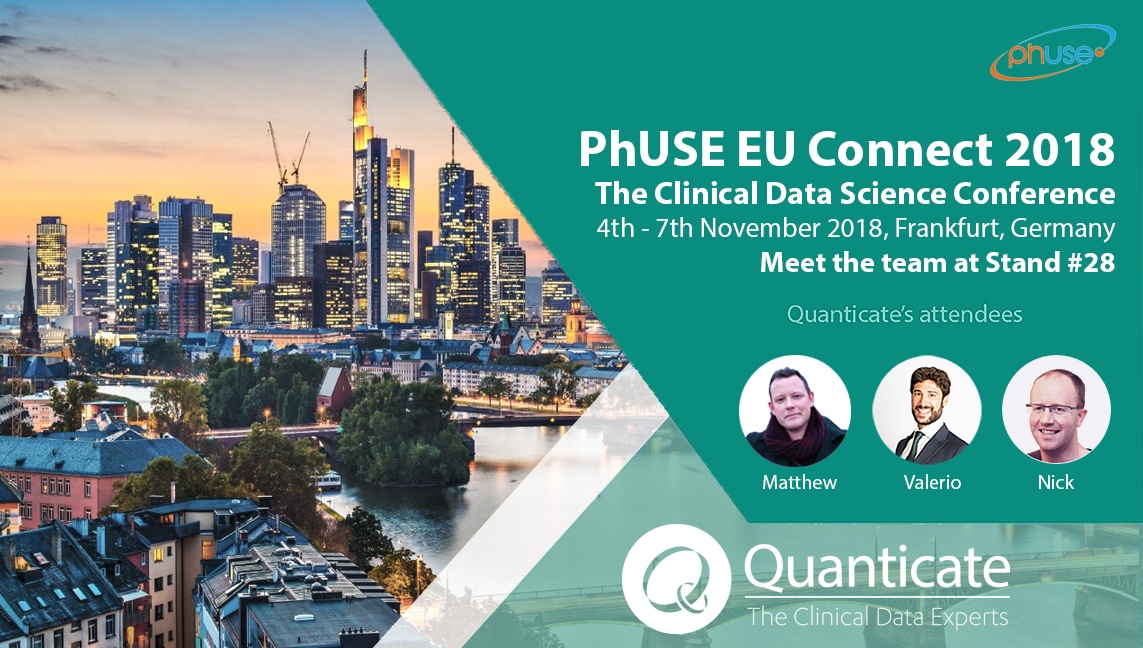 Quanticate will be exhibiting at the PhUSE EU Connect 2018, November 4th -7th, Frankfurt, Germany. Meet us at Kap Europa Congress Center. Meet our team at Stand #28.
As a Data-Focused Clinical Research Organization, we are excited to be attending the PhUSE EU Connect 2018, following our attendance at the PhUSE Annual Conference in 2017.
If you have any enquiries around our biometric services or are interested in a career with Quanticate then visit our stand and speak with Valerio Calvanese and Mathew Bushell. Also at this year's PhUSE conference our Chief Technology Officer; Nick Burch, Head of Programming; Piotr Karasiewicz and SME; Will Greenway who are experts in the fields of AI and CDISC will be attending and available for more detailed discussions in their respective fields, please use the form below to arrange a meeting.
At this years conference, Quanticate will host a 'poster session' called: 'Tree Traversal: Why You Should Never Transpose in PROC SQL' and two 'speaker sessions' respectively called: 'To VBA or not to VBA? That is the Question' (Tuesday, 15:00-15:30) and 'Do Loops in Proc DS2' (Wednesday, 12:00-12:15pm) . You can view the full PhUSE agenda here.
This year our stand will also feature a gaming competition with the classic game, 'Super Mario'. The highest score will be rewarded with our prize of a Classic NES Nintendo Mini!
As has become customary, we will have the latest #quackers4quanticate duck available at our stand. Why not collect this year's red Quackers duck and take part in our charity competition to support the Save The Children?
We will also have copies of our "Successful Process Improvement using Validated SAS Macros in Clinical Trial Reporting" white paper available at the stand.
We are looking forward to seeing you there!
Complete the form below to schedule a meeting with our expert team at PhUSE EU Connect 2018