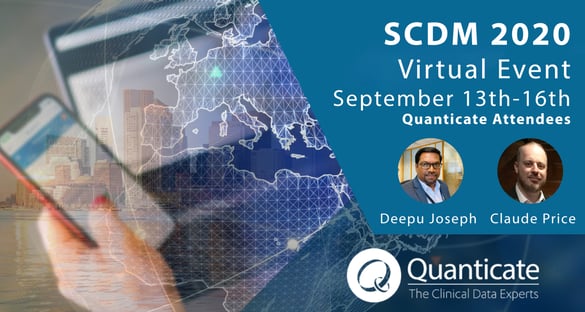 Deepu Joseph, VP of Clinical Data Management, and Claude Price, Associate Director Clinical Data Management, will be attending the SCDM Annual Conference, 13th - 16th Sep, 2020.
Claude Price will be hosting a panel discussion on

"Collaboration Internal Teams and Customer Focus", on Tuesday 15th September at 10:30am (Central EU Time).
Deepu Joseph will be involved as a panelist in a panel discussion on

"Increasing importance of Clinical Outcomes Assessments - Is DM Ready to Deal with it?"

on Wednesday 16th September, 2020 at 10:15am.
We are looking forward to your attendance and participation at the conference.
About Quanticate:
Quanticate is one of the world's largest global data-focused clinical research organizations (CROs) with a primary focus on data capture, statistical analysis, and clinical trial reporting. As an expert in clinical data, Quanticate can rapidly provide high-quality teams that offer flexible solutions for clinical data management, biostatistics, statistical programming, pharmacokinetic/pharmacodynamic (PK/PD) analysis, medical writing, and statistical consultancy.
Quanticate meets the needs of drug‑ and device‑development companies by offering customer‑focused resource solutions from fixed‑cost or functional‑service‑provider (FSP) models through to consultancy. Quanticate has become the trusted supplier of choice for many companies from niche biotechnology and device companies to top tier pharmaceutical giants.