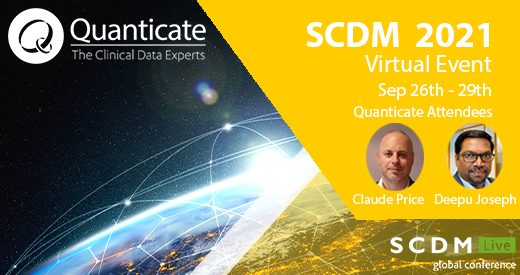 Quanticate is exhibiting at this years SCDM 2021 Global Virtual Conference, 26th - 29th September.
Join us to hear Claude Price present ''Save the Trees, more eSource and eCOA please'' on Monday, September 27, 2021 11:30 AM to 12:30 AM EST.
Deepu Joseph will be chairing a panel discussion on the "Impact and importance of Data Strategy Driven Decentralized Clinical Trials (DCT) Implementation" on Monday, September 27, 10:30 AM - 11:30 AM EST.
Visit our virtual booth to see how Quanticate can help you capture, clean and lock your clinical trial data so it's ready for statistical analysis. Speak to a member of our team or arrange a meeting to learn more about our Clinical Data Management, Decentralized Clinical Trials and Wearable solutions.
To register for the conference, sign up here.
Alternatively if you would like to speak with our team now, please contact us.
About Quanticate:
Quanticate is one of the world's largest global data-focused clinical research organizations (CROs) with a primary focus on data collection and validation, statistical analysis, and clinical trial reporting. As an expert in clinical data, with a long history spanning across 3 decades, Quanticate can rapidly provide high-quality teams that offer flexible solutions for clinical data management, biostatistics, statistical programming, pharmacokinetic/pharmacodynamic (PK/PD) analysis, medical writing, and statistical consultancy.
Quanticate meets the needs of drug‑ and device‑development companies by offering customer‑focused resource solutions from fixed‑cost or functional‑service‑provider (FSP) models through to consultancy. Quanticate has become the trusted supplier of choice for many companies from niche biotechnology and device companies to top tier pharmaceutical giants.