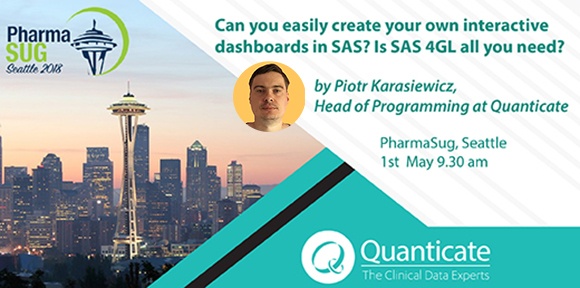 Quanticate's Head of Programming, Piotr Karasiewicz, will host a speaker session on how to create Interactive Dashboards in SAS at the PharmaSug conference!
Quanticate's Presentation will be part of the Data Visualization session at the PharmaSug on Tuesday 1st May at 9.30 am in Seattle, The Westin Hotel, 1900 5th Avenue, WA.
Please find the abstract of Piotr's talk below:
Can you easily create your own interactive dashboards in SAS? Is SAS 4GL all you need?
Easily finding the right information is key to smart and timely business decisions. In Clinical Trials, it can even mean the difference between life and death! There are huge numbers of visualization tools available, but are they the best? When you understand your data and user needs fully, are you better off building something from scratch within SAS? Using dummy Clinical Trial data, we'll compare our in-house web-based serverless solution, which uses PROC JSON and the Open Source D3 library for graphing and drill-down. We will also review SAS techniques helpful in building in-house platform: PROC GKPI, PROC STREAM and custom html+javascript codes run through SAS. As an alternative we look at paid-for solutions like Microsoft Power BI Desktop. Finally, we'll consider if the breadth of options offered by tools like Power BI help or hinder, compared to targeted reports defined by experts.


Are you tired of clinical data visualization platforms that offer you hundreds of different options, but make it almost impossible to get the right one?
At Quanticate, we take a different approach with our clinical data visualizations. Using our expertise in statistical consultancy, we pick the most appropriate data visualizations for you, to allow you to quickly find the information you need from your data. Instead of a surfeit of options too hard to pick through, we give you just the ones you need when you need them.
If you would like to discuss in more detail around Data Visualization and how Quanticate could support your trial, please complete the form below to schedule a meeting with Piotr Karasiewicz at the conference!