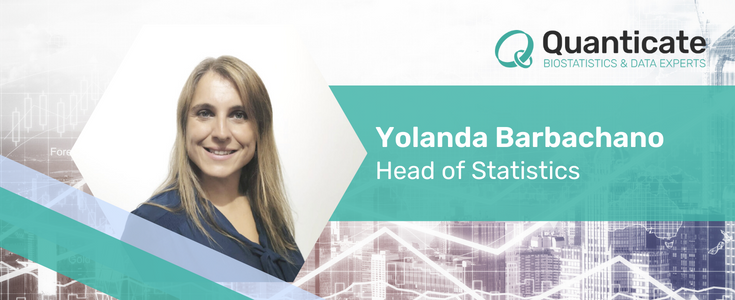 Hitchin, UK, 19 January Quanticate, a global data-focused clinical research organization (CRO), has announced the appointment of Yolanda Barbachano as Head of Statistics.
The Statistics Department works across a range of therapeutic areas to provide clients with support on everything from novel study designs, reports and manuscripts, expertise in analytical approaches to applied clinical trials, statistical reporting and CDISC and regulatory expertise.
In her role, Yolanda will be responsible for leading both the Statistical Consultancy team and statistical programming deliverables. Having previously worked within the regulatory agencies, Yolanda will help Quanticate's clients prepare marketing authorization submissions, providing them with guidance to ensure they meet regulatory requirements to help get their drug products to market. She will also ensure all projects are effectively coordinated whilst maintaining high levels of quality and timeliness.
Yolanda Barbachano said of her appointment: "Quanticate is renowned in the industry for its statistical heritage and expertise. As a CRO founded by statisticians almost three decades ago, there has always been a focus on statistical excellence to prove a drug's efficacy and safety. It's a privilege to join an organization that is committed to going the extra mile to provide world-class quality services to its customers."
Yolanda graduated with a PhD in Medical Statistics from Sussex University in 2007. She has since gained over 15 years of experience working across the medical and healthcare sector, and in her previous role was the Leading Senior Statistical Assessor for the Medicines and Healthcare products Regulatory Agency (MHRA).
David Underwood, CEO of Quanticate, commented: "Yolanda previously worked with regulators on drug approvals and our customers are already benefiting from this expertise by providing valuable feedback and helping them to get their drugs to market in an efficient and timely manner."
He continued: "With a strong understanding of statistical methodologies required for a successful regulatory submission, that has helped to shape the pharmaceutical industry, Yolanda is well-regarded in our sector and is often invited to speak at multiple pharma, statistical and regulatory conferences. Yolanda joins at a pivotal point in Quanticate's history. Her wide range of expertise makes her a huge asset to our senior leadership team and the perfect candidate to lead the statistics department as we continue to accelerate our growth plans across Europe and North America."
Quanticate is one of the world's largest global data-focused clinical research organizations (CROs) with a primary focus on data capture, statistical analysis, and clinical trial reporting. Find out more about the business and its service offerings here.