Outcomes
The success of this project and the long-term partnership has been characterized by a number of added-value benefits and key results, including:
Resource flexibility including the availability of trained staff at the client site at short notice.
Improved communication due to proximity to the client's clinical team.
Improved timelines on client deliverables.
'Quality and on-time deliveries' metrics improvements:
Quality and on-time deliveries metrics 2015 - 2019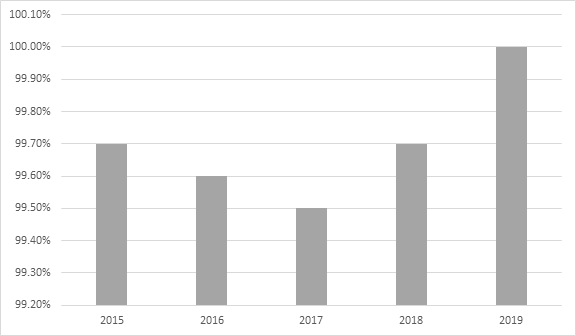 Greater efficiencies with a 30% reduction in the client's cost of clinical studies.
Ability to use optimal cost locations such as the opening of an office in mainland Europe to provide additional resource, coupled with on-site and local experts to add value to the clinical teams.
Reduced overhead costs and minimized risks associated with peaks and troughs in workload.
Reduction in training requirements for the client as they were able to utilize the Quanticate team and their expertise, as well as incorporating Quanticate's training systems into their own training processes.
Reduction in client project management of studies and client oversight as this was provided by Quanticate, which supported an improvement in overall efficiencies as the client was able to allocate their own resources to other projects.
Reduced office crowding.
Lower recruitment and HR costs.
The reduction of contracts with multiple parties as the client no longer relied on using single statisticians and programmers. This lead to cost savings as premium contractor rates was avoided, and brought efficiencies to the client as Quanticate acted as a single data-focused CRO and all governance and project management of data related services was placed with a single provider.
The client received consistent pricing by working with one vendor for data related services and not multiple vendors with their various pricing.