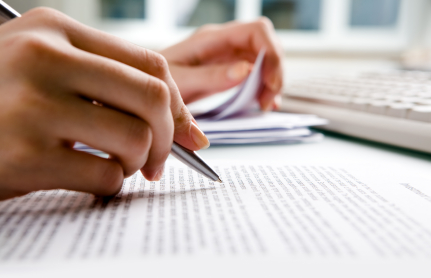 Whether working for a pharmaceutical company or a clinical research organisation (CRO), most regulatory writers started out as academics. Although a PhD is not a pre-requisite, most employers will be looking for a scientific or medical degree, not to mention certain character traits such as problem solving and analytical skills, fastidiousness and a readiness to embrace new fields of research.
Whether you are applying to regulatory writing from within or outside the clinical world, the first step is to familiarise yourself with the types of clinical trial documentation that exist: for example Investigator Brochures (IBs), Protocols, Clinical Study Reports (CSRs), Common Technical Documents (CTDs), Periodic Safety Update Reports (PSURs), and Risk Management Plans (RMPs). Read some published clinical trial results; biostatistics is a big part of the job and a regulatory writer needs to be able to recognise and handle large volumes of various types of data including pharmacokinetic, pharmacodynamic, efficacy, and safety. You must also become familiar with the whole process of drug development and regulation; familiarise yourself with clinical trial design eg, Phase 2 study design, the specifics of safety and pharmacovigilance reporting and Good Clinical Practice (GCP). The following websites will be useful: United States Food and Drug Administration (FDA) (www.fda.gov), Medicines and Healthcare products Regulatory Agency (www.mhra.gov.uk) and European Medicines Agency (www.ema.europa.eu).
Next identify some potential employers. An internet search for biometrics companies in the UK, pharmaceutical companies or CROs in the UK should provide a detailed list of regulatory writer vacancies. There are also dedicated recruitment agencies.
Your curriculum vitae and covering letter must be perfect; there should be no grammatical or spelling errors, the document should be laid out clearly with no formatting errors. Any science based work experience is valid, particularly if you have been involved in any laboratory based primary research. Most pharmaceutical companies or CROs have specific therapeutic areas of interest and you should tailor your application to match this. For those applicants without a postgraduate degree, describe any writing experience eg, blogs, and student newspaper or other published articles.
In most instances, as well as an interview, you will be asked to complete a writing and/or a quality control test. In both cases you must concentrate on accuracy, clear interpretation of data and consistency. It doesn't matter if you can't use proofreading marks, or that you don't know the standard way to display data; as long as you have captured mistakes, or clearly presented the most important data, your test will be looked upon favourably.
Finally - good luck in your chosen career!
Related blog posts: