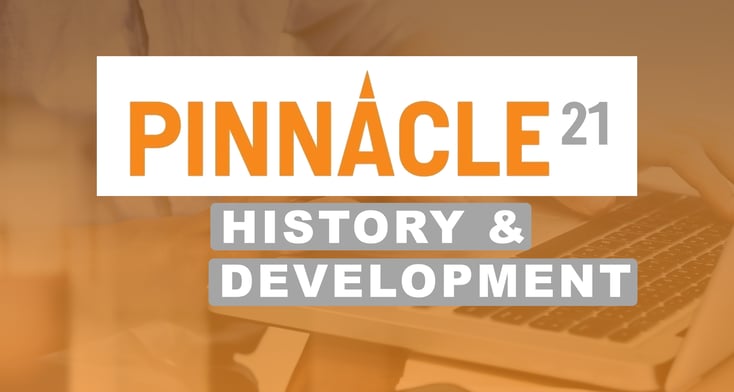 Until 2007, the Food Drug & Administration (FDA) and the biopharmaceutical industry were grappled by the non-standardized sources of data. Gathering all the heterogenous data and mapping to the internal standards of the pharma companies proved to be the greatest challenge of the time. By the end of 2007, and towards the beginning of 2008, the Clinical Data Interchange Standards Consortium (CDISC) gained ground in its mission to develop a global set of standards. Eventually, CDISC began shaping the entire industry as FDA started requesting submission data in standardized formats, though CDISC compliant software options were limited.1,2 The 'study data standards' provide a consistent general framework for organizing data, including templates for datasets, standard names for variables, identify appropriate controlled terminology and standard ways of doing calculations with common variables.3
What is OpenCDISC Validator?
In October 2008, OpenCDISC Validator was the first free product launched with an aim of helping developers to create FDA and Pharmaceuticals and Medical Devices Agency (PMDA) compliant SDTM datasets without creating budget problems. OpenCDISC Validator was an open, collaborative, and vendor-neutral software, dedicated to building extensible tools and frameworks for the implementation of CDISC standards. With an immediate buzz in the industry, the Validator gained popularity among developers. Additional CDISC standards like ADaM, SEND, and Define.xml were few other extensions of this Validator. Gaining recognition and reputation from the FDA had become imperative for the OpenCDISC Validator to be the platform for leveraging transparent and standardized processes.1,2, 4
By 2010, as soon as the OpenCDISC Validator gained reputation from the FDA to screen all incoming submissions for compliance with CDISC business rules, the popularity kept soaring. However, the Validator had a couple of limitations – one, larger organizations with many professionals and several studies needed a robust centralized system with better support options; and second, the Validator could not reach its full capacity due to funding limitations. In August 2011, to overcome these shortcomings a commercial arm of OpenCDISC was formed, known as 'Pinnacle 21'. 1,2
OpenCDISC Enterprise
Pinnacle 21 created a commercial and enterprise-wide version of the software, known as 'OpenCDISC Enterprise', to support large organizations with multiple users. The commercial fees charged as license fees opened new avenues for end users (all tools, bells and whistles were made available), as well as to the open-source project by allowing continuous evolution, thanks to the financial aid. The robust, vendor-neutral, and comprehensive nature of this software was soon adopted by the FDA for most of the incoming solutions, and internally referred to it as 'Datafit.' 1,2 Using the standard format to submit electronic data simplifies the process of submission, allows greater ease and flexibility for FDA data review, approval of new drugs, and post-marketing monitoring of drugs.5
OpenCDISC Community v2.0
In 2014, a major update known as 'OpenCDISC Community v2.0' was released by the open-source project of Pinnacle 21. This major upgrade is cloud-based, provides validation scorecards, enables issue management, creates Define.xml, SDRGs, CDISC consulting, Contract Research Organization (CRO) oversight, generates customized reports, supports in submission reviews, and more.1,2
Pinnacle 21 Enterprise
A similar validation software, 'Pinnacle 21 Enterprise' is used by regulatory agencies (FDA and PMDA) for validation of datasets. Pinnacle 21 Enterprise is designed to ease regulatory submission preparation, manage standards for datasets, and provide continuous compliance. The robustness of data is assessed with respect to six quality dimensions in Pinnacle 21 Enterprise. This software also lets the sponsors analyze data composition and understand inconsistencies, patterns, or the reasons for failure of data. Management, monitoring, and tracking of data, updates, and issues is highly simplified to facilitate open communication and collaboration between CROs, programmers, and other team members. Pinnacle 21 Enterprise comes with many features such as setting up customized standards and terminology, validation of standards and technology, track updates in metadata, define XML 2.0, extract metadata and merge standards, compare studies and versions, and real-time validation. The fitness of data in terms of six quality dimensions including standard compliance, data quality, and more.6
Pinnacle 21 has evolved over time to become a leader in software and services for managing CDISC compliance, clinical data quality, and FDA submission readiness. The pharmaceutical companies, CROs, and regulatory agencies are constantly benefited by the support from expert teams of Pinnacle 21, in terms of standardized formats of data exchange, or free educational webinars throughout the year, or "OpenCDISC Live" events where the end users can meet Pinnacle 21 staff members face-to-face, interact, collaborate, solve queries, and learn. 1,2
Pinnacle 21 Community
Pinnacle 21 Community has become an indispensable part of every statistical programmer who works with CDISC standards. It is a versatile software that allows flexibility to be used as either graphical user interface (GUI) or command line interface (CLI). Ad-hoc validation is mostly executed by GUI, while CLI best suits process automation, though both GUI and CLI offer full set of Validator features. The unrestricted installation and ease of use make it handy to execute FDA published business rules for submission data. It can be used as an automated process within SAS or run as a desktop application.1,2
Conclusion
In short, Pinnacle 21 provides centralized solutions, expertise, and experience. It ensures our datasets are robust, follow standard formats, and helps pharmaceutical companies, CROs, and regulatory agencies earn the best possible chance of FDA approval.1 Globally, this software is now embraced by most pharmaceutical and biotech companies, CROs, and regulatory agencies.1,2
An example of Pinnacle 21 interface can be seen below: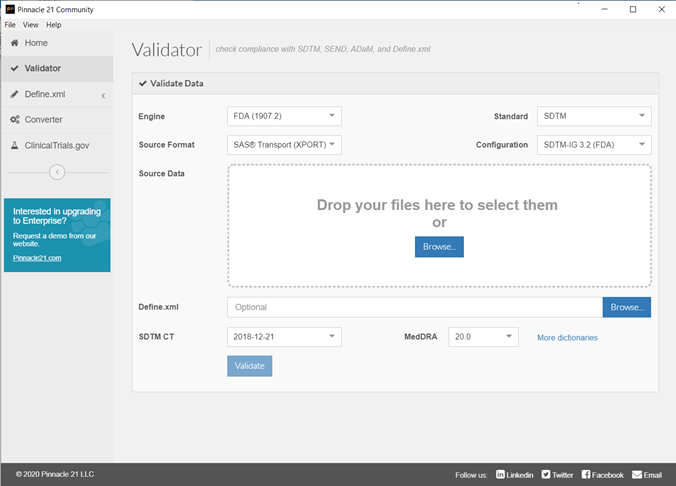 Currently, the following versions are available7:
| | | | | |
| --- | --- | --- | --- | --- |
| Community Version | Enterprise Version | Agency | Engine Version | Notes |
| 3.0.0+ | 4.0.0+ | PMDA | 1511.6 | Validation engine for PMDA rules version 1.0. Valid for use with applications from October 1, 2016 through March 31, 2021. |
| 3.0.0+ | 4.0.0+ | PMDA | 1810.3 | Validation engine for PMDA rules version 2.0. Valid for use with applications from April 1, 2020. |
| 3.0.0+ | 4.0.0+ | FDA | 1907.2 | |
Ensure CDISC compliance and a successful regulatory submission with by partnering with our global statistical programming team who are experienced across as CDISC standards, SDTM mapping and utilizing Pinnacle 21. Your data is the most important outcome of your trial and is the result of a huge amount of investment - make sure you maximize it to its full potential with high quality data and improved data integrity. If you would like more information on how we can assist your clinical trial submit an RFI.
References:
[1] https://www.pinnacle21.com/blog/the-history-of-opencdisc
[2] https://www.lexjansen.com/pharmasug/2016/HT/PharmaSUG-2016-HT04.pdf
[3] https://www.fda.gov/industry/fda-resources-data-standards/study-data-standards-resources
[4] https://www.pinnacle21.com/blog/pmdas-new-validation-rules-explained
[5] https://www.fda.gov/media/98896/download
[6] https://www.pinnacle21.com/products/validation