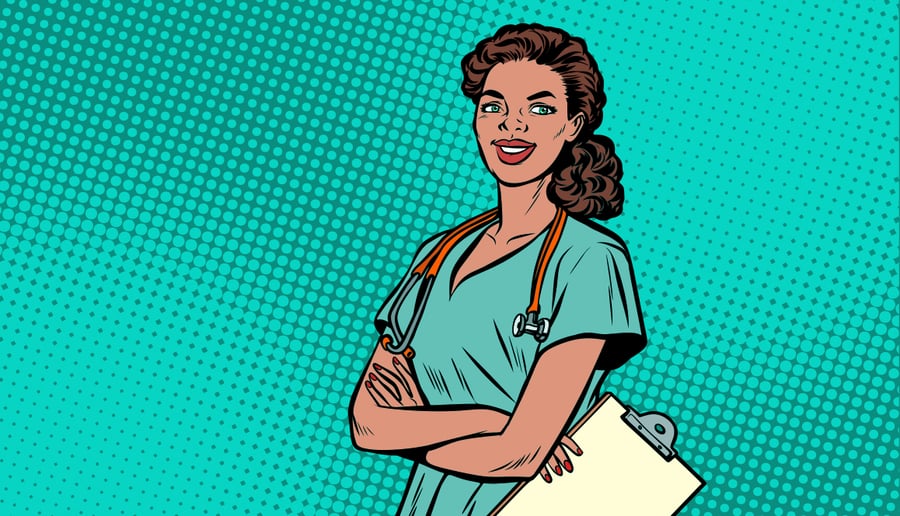 In 1992, the Food and Drug Administration (FDA) introduced four distinct and successful approaches known as Priority Review, Breakthrough Therapy, Accelerated Approval, and Fast Track approval of the investigational drug. Under the 'accelerated approval' regulation, surrogate endpoints for serious conditions that filled an unmet medical need are reviewed by FDA, allowing faster approval of drugs. A two-tiered system of review times – Standard Review and Priority Review were introduced by FDA under the Prescription Drug User Act (PDUFA). FDA reviews 'Priority Review' designated drugs within 6 months (compared to 10 months under standard review).[i]FDA Oncology Center of Excellence (OCE) strives to achieve patient-centered regulatory decision-making through innovation and collaboration. To achieve this mission, OCE influences cumulative use of experience of regulatory scientists and reviewers with expertise in drugs, devices, biologics and diagnostics. The Center is responsible for monitoring and expediting medical product development process for oncologic and hematologic malignancies; and also provides as an integrated approach to their clinical evaluation.[ii] The endpoints in oncology trials are often long-term and drug approval process becomes tedious. Thus, in June 2018, to expedite approval of oncology drugs, OCE launched "Oncology Center of Excellence Real-Time Oncology Review (OCE-RTOR) Pilot Program" for comparatively simpler study designs with straight-forward endpoints.[iii],[iv]
RTOR program allows FDA to access and review key data ahead of time, prior to official New Drug Application/Biologics License Application (NDA/BLA) submission. The efficient real-time data review process ensures rapid drug approval without compromising the safety and efficacy of the treatment, by allowing FDA to provide early feedback to the applicant regarding the most effective way to address key regulatory questions.[v] The timeline of the RTOR process is summarized in Figure 1.
Figure 1: Real-Time Oncology Review Timeline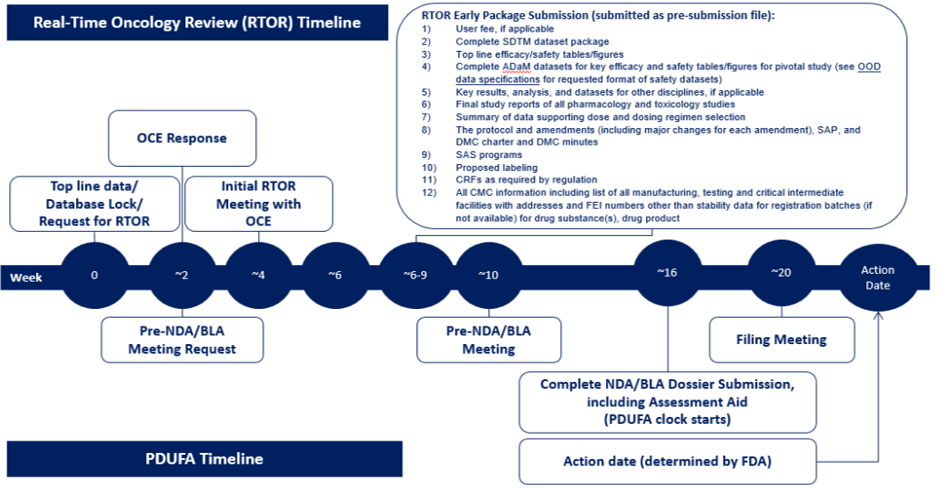 Image source: FDA website [vi]
As clearly depicted from the RTOR timeline, NDA/BLA approvals can be achieved within 2 to 24 weeks (compared to 6-10 months under priority review). To be eligible for RTOR program the investigational drug must demonstrate substantial improvements over available therapy (which may include drugs previously granted breakthrough therapy designation for the same or other indications), the study design must be straight-forward with easily interpretable endpoints (e.g. progression-free survival, overall survival). Investigational drugs meeting criteria for other expedited programs (e.g. fast track, priority review) and complex studies are considered for RTOR on a case by case basis.[vii] Approval of drugs for studies conducted outside of the US, studies including changes with chemistry, manufacturing, and control formulation, studies with pharmacology/toxicology data of supplements, and complex studies (including those with companion diagnostics) are excluded from RTOR program.[viii]
Kisqali® (ribociclib) was the first cancer drug approved by FDA in less than one month under RTOR program, for the treatment of HR-positive, HER2-negative breast cancer in post-menopausal women whose cancer is advanced or metastatic. The real-time review of the study allowed FDA to evaluate and analyse key data in a structured template before formal submission, shortening the approval time to just 3 weeks.[ix] Adcetris® (brentuximab vedotin) was approved by FDA in mere 2 weeks from the date of application, as the review team was familiar with study details, and already had access to the key data.[x] Kyprolis® (carfilzomib) in combination with dexamethasone for the treatment of relapsed or refractory multiple myeloma is another successful approval within a month, under the RTOR program.[xi] Several other drugs like Keytruda® (pembrolizumab)[xii], Tibsovo®(ivosidenib)[xiii], Kadcyla® (ado-trastuzumab emtansine)[xiv], Venclexta® (venetoclax)[xv], and Darzalex® (daratumumab)[xvi],[xvii] .
Piqray® (alpelisib) is the first and only NDA approved for the treatment of patients with a PIK3CA mutation in HR+/HER2- advanced breast cancer, under the OCE-RTOR program. The application was granted priority review by FDA and was successfully processed approximately 3 months ahead of PDUFA approval date.[xviii],[xix]

Quanticate's team of statisticians and programmers are among the leaders within the therapeutic area of Oncology. With over 7 years experience in Oncology studies with one of the top 5 pharmas, we are confident in our ability to discuss your requirements and provide advice about possible ways to increase the chance of a successful Oncology study. For more information please submit an RFI.
References
[i] https://www.fda.gov/patients/fast-track-breakthrough-therapy-accelerated-approval-priority-review/priority-review
[ii] https://www.fda.gov/about-fda/fda-organization/oncology-center-excellence
[iii] https://www.focr.org/sites/default/files/ROTR%20White%20Paper%201.pdf
[iv] https://www.fda.gov/about-fda/oncology-center-excellence/oncology-regulatory-affairs
[v] https://www.fda.gov/about-fda/oncology-center-excellence/real-time-oncology-review-pilot-program#Purpose
[vi] https://www.fda.gov/about-fda/oncology-center-excellence/real-time-oncology-review-pilot-program#Purpose
[vii] https://www.fda.gov/about-fda/oncology-center-excellence/real-time-oncology-review-pilot-program#Purpose
[viii] https://www.fda.gov/drugs/real-time-review-drug-applications-now-reality-september-20-2018-issue
[ix] https://www.fda.gov/news-events/press-announcements/fda-approves-first-cancer-drug-through-new-oncology-review-pilot-enables-greater-development
[x] https://www.ascopost.com/News/59481
[xi] https://www.amgen.com/media/news-releases/2018/10/fda-approves-kyprolis-carfilzomib-onceweekly-70-mgm2-in-combination-with-dexamethasone-kd70-for-patients-with-relapsed-or-refractory-multiple-myeloma/
[xii] https://investors.merck.com/news/press-release-details/2019/FDA-Approves-KEYTRUDA-pembrolizumab-plus-LENVIMA-lenvatinib-Combination-Treatment-for-Patients-with-Certain-Types-of-Endometrial-Carcinoma/default.aspx
[xiii] https://investor.agios.com/news-releases/news-release-details/agios-announces-fda-acceptance-supplemental-new-drug-application
[xiv] https://www.gene.com/media/press-releases/14785/2019-05-03/fda-approves-genentechs-kadcyla-for-adju
[xv] https://news.abbvie.com/news/press-releases/abbvie-announces-us-fda-approval-venclexta-venetoclax-as-chemotherapy-free-combination-regimen-for-previously-untreated-chronic-lymphocytic-leukemia-patients.htm
[xvi] https://www.jnj.com/janssen-submits-application-to-u-s-fda-seeking-approval-of-darzalex-daratumumab-combination-therapy-for-patients-with-newly-diagnosed-multiple-myeloma-who-are-transplant-ineligible
[xvii] https://www.fda.gov/drugs/resources-information-approved-drugs/fda-approves-daratumumab-multiple-myeloma-ineligible-autologous-stem-cell-transplant
[xviii] https://www.fda.gov/drugs/resources-information-approved-drugs/fda-approves-alpelisib-metastatic-breast-cancer
[xix] https://www.novartis.com/news/media-releases/fda-approves-novartis-piqray-first-and-only-treatment-specifically-patients-pik3ca-mutation-hrher2-advanced-breast-cancer