Nowadays, more and more studies are being designed to collect information on treatment response at several time points during the treatment period of the study. Although the primary endpoint is often the comparison at the end of the study of the absolute response or of the change to baseline between study treatments, analyses involving intermediate time points in the assessment of treatment effects, e.g., repeated measures modeling, are now widely used.
In some therapeutic areas, however, response to treatment through time can be modeled using non linear approaches that allow a complete and exhaustive summary of treatment differences throughout the study. This blog will focus on how the comparison between treatment response curves can be done with a non-linear approach using SAS and R software in an example from a rheumatoid arthritis (RA) phase III clinical trial.
1. The model
The most common criterion for assessing treatment response in RA was defined by the American College of Rheumatology (ACR) and is named ACR20. This is binary criterion that incorporates several indices of treatment activity in terms of symptoms reduction and is equal to 1 if at least a 20% improvement between a baseline and post-baseline measurement is observed, and 0 otherwise. The course of ACR20 response through time has been observed to follow a trend that could be well described by an exponential time-response model as detailed in [1]:

The above model was developed to be used for pooling data from different studies where a control arm of subjects treated with 'COM', a standard comparator treatment for RA, was available. Our example is based on data from a single study where the goal is to compare an already available treatment and a biosimilar, hence the goal is to assess their equivalence. The model can be simplified as follows:

2. The software and the results
This can be fitted in SAS using PROC NLMIXED:

The fitted curves are reported in Figure 1.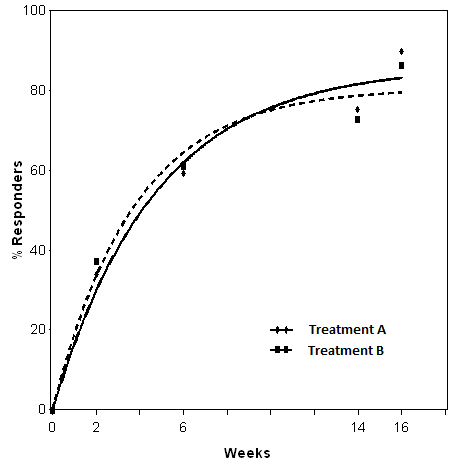 Figure 1. Non-linear model
Comparison between the two models can then be done following the approach described in [2], which relies on calculating the squared differences between treatment at each time-point and then to sum them up via integration to obtain a so-called '2-norm' alongside a 95%CI to be compared with some reference threshold. Integration can be performed using R software (or alternatively using PROC IML in SAS, which was not available when this project was undertaken), as follows:

This resulted in a 2-norm equal to 11.24. The lower and upper arguments can be changed to estimate the 2-norm only for the period of interest (in the example week 16 is the end of the double-blind phase).
To obtain a confidence interval a non-parametric bootstrap approach was pursued [3], using a mixture of SAS (for resampling and model fitting) and R procedures (for numerical integration).
In a nutshell, a large number B of bootstrap samples are extracted from the original dataset and the non-linear model is estimated for each of them within SAS. The model estimates are then exported to R were the 2-norm estimates for each resampled dataset are obtained via integration. The empirical distribution of these B bootstrap estimates is used to obtain the confidence limits for the 2-norm of the original dataset. In this specific case, given the positive skew of this distribution (see Figure 2), a bias corrected and accelerated (BCa) interval was estimated (see [3], pg. 184 to 188 for computational details), leading to a 95%CI for the 2-norm from 0.11 to 38.51.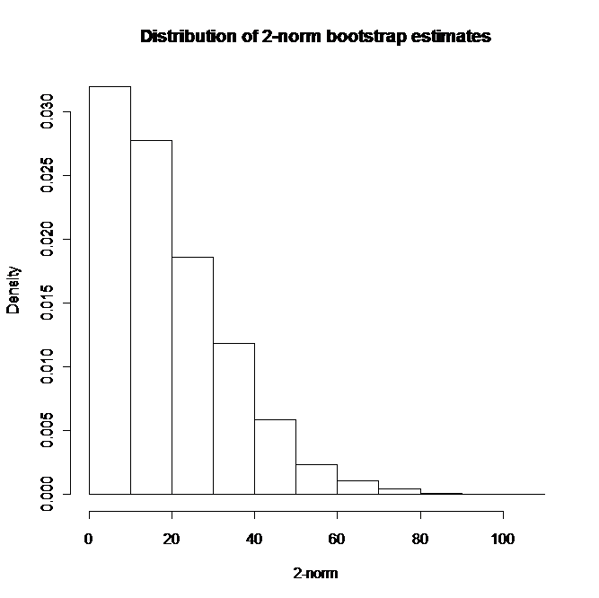 Figure 2. Bootstrap estimates of 2-norm
The above interval can then be compared to some threshold value, as it is usually done when assessing equivalence, to check if bioequivalence across all time-points is shown. Defining the threshold value is not an easy task, and in Choe et al. this was done using historical data, and then estimating a 2-norm with CI on them, selecting half the lower bound of the CI as the threshold not to be exceeded to meet equivalence. Our results were in line with those reported by [2], though the time range in our study was shorter, so that a straightforward comparison could not be pursued.
Conclusion:
To sum up, these are the key points from this blog:
time-response models can provide useful insights on treatment comparison across time points as an addition to standard "cross-sectional" assessment
comparison between curves can be performed via an integration approach using standard software
bootstrap methods provide an effective way of estimating the confidence interval for metrics such as the the 2-norm that do not have an obvious sampling distribution - thresholds have to be defined (e.g. for equivalence testing), and this might involve reference to existing literature or additional assumptions
References
Reeve R, Pang L, Ferguson B, O'Kelly M, Berry S and Xiao W. Rheumatoid Arthritis Disease Progression Modeling. Ther Innov Regul Sci 2013, 47(6): 641-650
Choe J, Prodanovic N, Niebrzydowski, Staykov I, Dokoupilova E, Baranauskaite A, Yatsyshyn R, Mekic M, Porawska W, Ciferska H, Jedrychowicz-Rosiak K, Zielinska A, Choi J, Rho YH and Smolen JS. A randomized, double-blind, phase III study comparing SB2, an infliximab biosimilar, to the infliximab reference product Remicade in patients with moderate to severe rheumatoid arthritis despite methrotrexate therapy. Ann Rheum Dis 2015, 0: 1-7
Efron B and Tibshirani RJ. An Introduction to the Bootstrap.1993, CRC Press