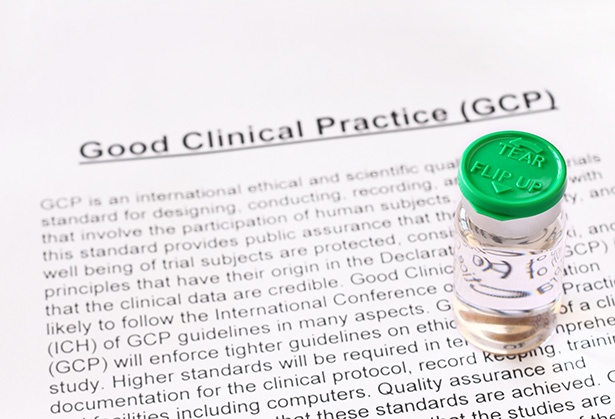 The International Conference on Harmonisation (ICH) has defined E2B as the international standard for transmitting medicine adverse event reports. The ICH E2B document includes message standards required for effective transmission of individual case safety reports (ICSR). Eventually, the need for the exchange of high volume of safety information world-wide efficiently and automatically has led to periodic revisions of the E2B document. Since 2001, when E2B(R2) was implemented, there have been many developments in regulatory reporting requirements and pharmacovigilance practices. Recently, the ICH E2B(R3) and M2 Expert Working Groups (EWGs) jointly developed an implementation guide on the standards adopted for electronic transmission of ICSRs. It includes new requirements that will require compliance by product manufacturers (and the organizations that assist them with reporting safety information).
ICH E2B(R3)
The ICH E2B(R3) update is intended to standardize the definition of the data elements used in electronic transmission of different types of ICSRs, irrespective of source and destination. It also assists reporters and recipients (including biopharma companies, regulatory authorities, and non-commercial sponsors) in implementing systems to construct transmittable ICSR messages between and among themselves in ICH regions and in other countries that adopt ICH guidelines. To achieve these standards, ICH E2B(R3) was developed through a partnership with external Standards Development Organizations (SDOs).
Notable Updates
The updated E2B(R3) guide carries many amendments and/or changes to the message format, including but not limited to: data structure, data elements, sender's comments, sender's diagnosis, free text for more information available, seriousness criteria at the event level, and assessment of relatedness of drug to reaction(s)/event(s). It is recommended that all the information from an ICSR should be reported using the relevant E2B(R3) data elements and following standard terminologies: ISO (country codes, gender codes, and language codes), MedDRA (e.g. medical history, indication, and reaction/event), UCUM (units of measurement), and ISO IDMP (Identification of Medicinal Products). The IDMP include identifiers to allow mapping of international terminologies for routes of administration, dosage forms, and units of measurement, as well as controlled identifiers to enable cross-border identification of pharmaceutical products and mapping to their active substances. Since IDMP terms and/or identifiers (e.g. codes) are not yet available, the current guide provides instructions for alternate meanings to code the information until the new version of ICH M5 implementation guide is made available.

The major updates that companies should be aware of are detailed as below:
Backwards and Forwards Compatibility
The evolution of the E2B(R3) guideline has the consequence of affecting message conversion either backwards or forwards when sending to another version. There can be transformation or loss of information from repeated conversions. Therefore, to ease any sender or receiver in the data exchange, the ICH E2B(R3) Implementation Working Group developed guidance on how to convert between the E2B(R2) and E2B(R3) ICSR formats and published following two documents:
ICH ICSR Backwards and Forwards Compatibility Recommendations
Backwards and Forwards Element Mapping spread sheet
These recommendations have led to the development of ICH Backwards and Forwards conversion tool (BFC). The conversion will always occur on the receiver side, that is, just before loading the case into the pharmacovigilance system. This can be visualized in the below picture: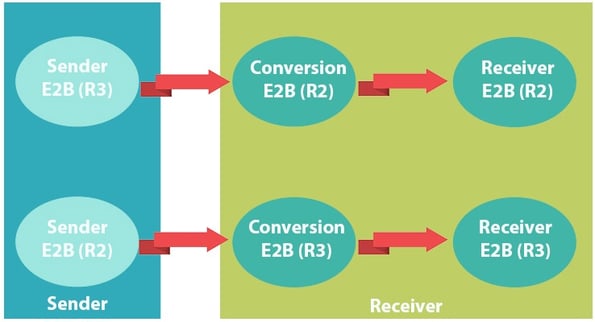 For having an E2B(R3) compliant safety system, companies will need to either upgrade to a compliant version or switch to systems which are compliant. If data migration is required, it is recommended to do this early to reduce the size of the project, risk, and financial burden of these compliance changes. It is noted that the Oracle Argus versions above 8.0 are compatible with BFC.
Data Structure
The major advantage of E2B(R3) is interoperability, which aims at better protection of patients and consumers. Since E2B(R3) is based on Health Level Seven (HL7: A standards developing organization dedicated to providing a comprehensive framework and related standards for the exchange, integration, sharing, and retrieval of electronic health information that supports clinical practice and the management, delivery, and evaluation of health services), a variety of clinical systems will be able to use it for effective data exchange with each other.
The ISO in collaboration with ICH has developed a set of standards to improve exchange of information for medicinal products. These standards allow mapping of international terminologies for routes of administration, dosage forms, and units of measurement, and also to enable cross-border identification of pharmaceutical products and mapping to their core component. Temporary rules are applied to the data elements until the controlled vocabularies for the ISO IDMP are made available.
Null Values/Null Flavor
Its primary purpose is for situations where it is necessary to inform the receiver that the information does exist without revealing any detail thus maintaining privacy. These values will play a role in closing gaps with regards to missing information at the time of submissions. In HL7 standards, it is possible to transmit an empty element and to code the element to explain the reason for the lack of data. This allows creation of valid messages containing mandatory elements without transmitting content. Hence, this blank element is known as the 'flavor' of the null value.
The ICH E2B(R3) states that all mandatory data elements must always be part of the ICSR message, however optional elements do not have to be transmitted. Some elements might need to be transmitted as part of a valid ICSR yet might need to be empty of content for specific reasons. Null Flavor can be entered for Date and Text fields as per the Implementation Guidelines. Since there exist minor differences between regulatory authorities in the allowed Null Flavors for various data elements, companies can customize the fields with appropriate Null Flavor sets using Flexible data re-categorization based on reporting needs. For text fields, Null Flavors must be entered for English and Japanese fields separately by manually selecting them from the NF drop-down list.
With E2B(R3), companies need to provide Null flavors to express more details on reason for non-submission of the information. These null flavors depend on the information and range from ASKU (Asked, but unknown) to MASK (not provided due to data privacy) from the type ahead/drop-down fields. Companies need to define in their standard operating procedures (SOPs) the proper usage of these Null flavors. This becomes challenging as FDA and EMA will have different requirements on the information where Null flavors should be provided.
Seriousness Criteria at Event Level
Moving ahead, the seriousness criteria of the reaction/event will be based on the definitions provided in the ICH E2A and E2D guidelines. According to which more than one seriousness criteria can be chosen. If the event is not serious, all of these data elements should be left blank. This allows assessment of the seriousness criteria at the event level rather than at the case level.
Impact on Biopharma Companies
The new standards in E2B(R3) include not just a technology change, but a business process change as well. With adoption in the EU becoming a reality shortly, businesses need to have a plan in place to manage their journey toward E2B(R3) compliance. As such, biopharma companies should review the capabilities of their current systems as part of their implementation plan so as to follow E2B(R2) and E2B(R3) guidelines. These changes will affect the SOPs and all other related procedural documents, and will also require training of all involved personnel in the process.
Quanticate's Readiness to the Challenge
The main benefit provided by E2B(R3) over E2B(R2) is capturing of detailed data and provides options for inclusiveness & collaboration with other stakeholders. It also focuses on the implementation of software and tools for creating, editing, sending, and receiving electronic ICSR messages. Quanticate, a data-focused clinical research organization (CRO), has completed an investment initiative to upgrade its pharmacovigilance safety database to Argus v8.1.1 and its in-house technology platform in preparation for early adoption of ICH E2B(R3). The updated system will simplify adverse event reporting in the EU and enhance data availability to stakeholders for improved patient safety.
Quanticate already offers pharmacovigilance services from case reporting to literature reviews and Quanticate's expansion of its capabilities offers pharmaceutical clients direct and immediate access to a fully compliant safety database without them needing to invest in their own system or use an interim solution to ensure compliance.
If you have a need for these types of services please Submit a RFI and member of our Business Development team will be in touch with you shortly.
Related Content