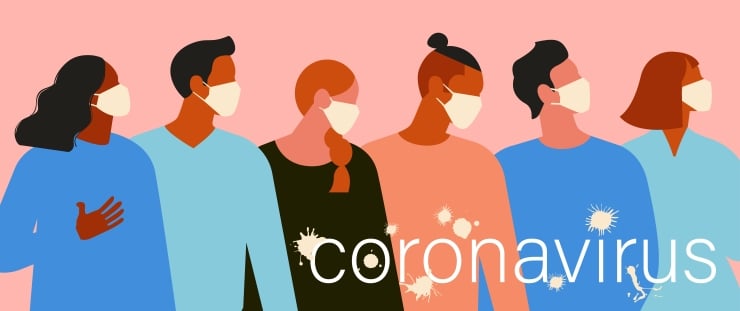 As the novel coronavirus pandemic sweeps across the globe, the media coverage of the COVID-19 disease is vast. There are articles being published continuously on all types of websites, and by journalists, across multiple disciplines. The aim of this blog is to pull together a list of trusted, valuable, statistically sound, and scientifically robust resources on COVID-19 for data scientists, statisticians, clinical programmers, medical writers and other individuals involved in drug development within the pharmaceutical and biotechnology industry or beyond.
Disclaimer: All thoughts and views are of the author(s) of resources shared and should not be viewed as official guidance.
Why outbreaks like coronavirus spread exponentially, and how to "flatten the curve"
This first article is from a journalist from the Washington Post who has used various models to explore the spread of the pandemic in the US, with or without social distancing, through the review of various curves. Each model uses a sample size of 200 and there are some impressive visualizations of disease spread.
Live Coronavirus Statistics and News
Below are three resources that are being constantly updated and reviewed on a daily basis; they are great go to sources for the most up to date information on the COVID-19 pandemic.
Coronavirus Disease - 2019 (COVID-19) – Statistics and Research
This is one of our favourites and a great article that pools together data on Covid-19 from across the world. The article allows reader to make sense of published data and early research on the novel coronavirus outbreak. With multiple visualisations and interactive graphs, as well as detailed information on the core concepts of the outbreak, it is a high quality resource. You can select different data points and make your own comparison as you view the coronavirus statistics by different countries.
This article gives key daily news updates on the outbreak from across the world since the first US case was confirmed (21 January 2020) in a more high-level summary, without going into the advanced detail of the resource above.
A continually updated stream of useful LinkedIn posts from official sources of information curated by LinkedIn Editors, including the World Health Organisation, UNICEF, Centers for Disease Control and Prevention, Department of Health and Social Care and the European Centre for Disease Prevention and Control.
Novel Coronavirus in Clinical Trials - Regulatory Guidance
Regulatory agencies have announced guidance and it is vital for all vendors and sponsors to keep up to date on the guidance from regulatory agencies as they look to protect patient safety at this uncertain time.
FDA Guidance on Conduct of Clinical Trials of Medical Products during COVID-19 Pandemic
The FDA has released guidance in light of the current pandemic and it clearly highlights how the safety of the patient is paramount and therefore protocol amendments and protocol deviations arising from the impact of Covid-19 are likely. In this guidance, the FDA outlines general considerations to help assure the safety of subjects, maintaining compliance with good clinical practice (GCP), and minimizing risks to trial integrity. From a statistical perspective, it is important that the impact of protocol amendments on the statistical analysis are discussed and documented and that analysis plans are updated prior to database lock to detail how protocol deviations will be handled.
MHRA - Advice for Management of Clinical trials in relation to Coronavirus
This regulatory update offers advice for managing clinical trials whilst dealing with the challenges arising from of Covid-19, including potential reassignment of resources with more staff working from home, subjects being asked to stay away from hospitals and GP sites or being reluctant to travel to sites, or subjects being unable to complete clinical trial activities due to self-isolation. The update also asks Sponsors to considering the risk/benefits of conducting trials on healthy subjects with drugs that may act as immunosuppressants.
EMA Guidance on the Management of Clinical Trials during the COVID-19 (Coronavirus) pandemic
This Guidance provides an EU-level harmonised set of recommendations to help mitigate the negative effects of the COVID-19 pandemic on the conduct of clinical trials. The guidance suggests changes that may be needed to ongoing trials to deal with issues such as restricted access to study sites, increased demands on the health service, changes to trial staff availability, and the possibility of participants being in self isolation. Additional topics covered include risk assessment; communication with authorities; changes to informed consent, distribution of the investigational medicinal product and monitoring; protocol deviations; and initiation of new trials to test new COVID-19 treatments.
Journals/Scientific Covid-19 Resources
Below are some resources from published academic resources which our team of clinical data experts, medical writers and pharmacovigilance specialists found of interest providing useful insights and knowledge to those wanting to learn more about the pandemic.
Clinical course and risk factors for mortality of adult inpatients with COVID-19 in Wuhan, China: a retrospective cohort study
This retrospective cohort study published in The Lancet looks at the clinical outcomes of 191 confirmed Covid-19 patients from 2 hospitals in Wuhan, China, especially the risk factors for fatal outcome, as well as viral shedding and recovery duration times for survivors. The study found key risk factors associated with increased mortality of older age, blood d-dimer level above 1 μg/mL, and higher Sequential Organ Failure Assessment (SOFA) scores could help clinicians identify at an early stage those patients with Covid-19 who have poor prognosis. A prolonged period of viral shedding (median duration of 20 days in survivors from the study) provides the rationale for a strategy of isolation of infected patients and optimal antiviral interventions in the future.
Epidemiology of 2019 novel coronavirus disease in Gansu Province, China, 2020
The study demonstrates the epidemiology of a relatively small-scale outbreak of Covid-19 outside of Wuhan. Such information should be useful for other regions and countries to help combat the spread of this lethal disease. The researchers studied patient characteristics in the waves of illness, time from infection to illness onset for family clusters, and patient condition after medical intervention. A geographic information system (GIS) Mapping and Spatial Analyses were performed along with statistical analyses to compare patients who sought care in the early and late periods. Significant differences of outcomes were reported depending upon the age and occupation of the patients. The illness was not significantly gender specific, however female patients were predominant. This study demonstrates a significant spatial heterogeneity of Covid-19 cases in Gansu Province over a 2-week period.
Statistical Modeling, Causal Inference, and Social Science
This site is a statistically heavy resource and covers various statistical methods and models that analysis the published data from studies of patients with Covid-19. The website has several posts which include; Estimates of the severity of COVID-19 disease: another Bayesian model with poststratification, data to argue for quarantining packages of delivery companies, Some recommendations for design and analysis of clinical trials, with application to coronavirus and much more.
Covid-19 — The Law and Limits of Quarantine
This article from the New England Journal of Medicine throws a light on 'quarantine' and its role in "flattening the curve" – what is the necessity and how should we deal with the crisis as well as both people's perspective and legislative perspectives.
Aerosol and Surface Stability of SARS-CoV-2 as Compared with SARS-CoV-1
This article from the New England Journal of Medicine contains research on the ability of the coronavirus to survive on surfaces and also within the air. It may help support theorists of stricter social distancing and self-isolation, in addition to other research documents which have shown how individuals infected with Covid-19 can spread the disease while being asymptomatic.
Getting Involved to Help Fight Coronavirus
COVID-19 Open Research Dataset Challenge (CORD-19)
COVID-19 Open Research Dataset (CORD-19) is the most extensive machine readable coronavirus literature collection, with over 44,000 articles relating to Covid-19, SARS-Cov-2 and related coronaviruses. With a growing amount of research, and literature continuously evolving around Covid-19, Cord-19 provides an open database for the data science and machine learning community to get involved and develop new artificial intelligence (AI) tools to help in the fight against COVID 19. The US White House and a coalition of leading research groups have asked the programming community to develop text and data mining tools to help the scientific community better digest these research papers to answer key questions as we look towards a solution for the current pandemic.
Thank you taking the time out to view these resources which we hope were useful and remember to stay safe!